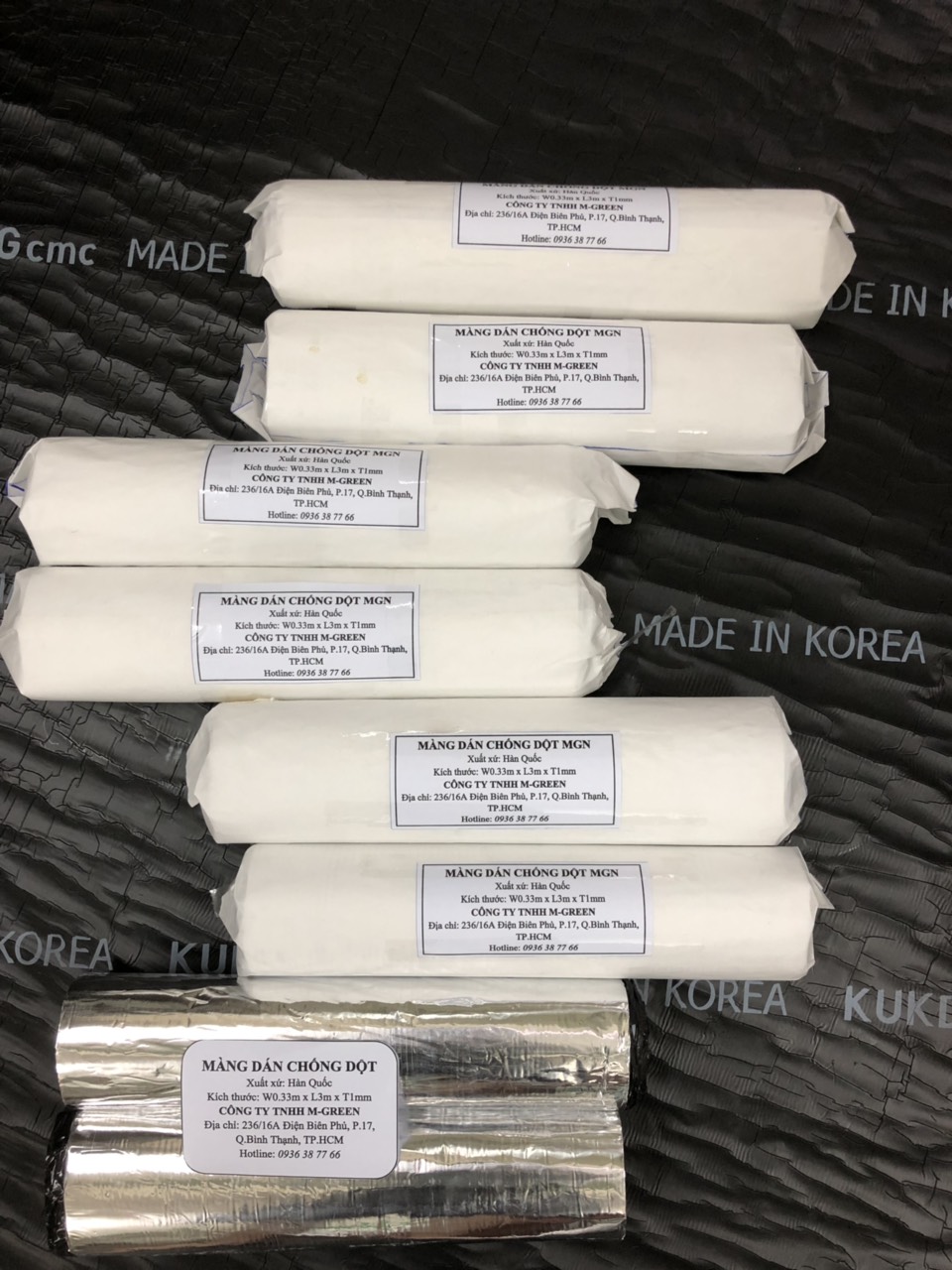 SIZE: W0.33m x L3m x T1mm

CONSTRUCTION:
- Clean the roof surface, the surface must be smooth, completely dry and dust-free. If the corrugated iron shows signs of rust, it should be beaten by sandpaper (sandpaper). Then clean the dirt thoroughly, avoid water, grease and grease on the roof surface.
- Spread out MGN Waterproofing membrane to the required length, then cut to the desired size.
- Place the newly cut film on the area where you are going to paste and check if it is fit.
- Remove the silicon film and carefully apply the membrane so that the minimum stack area is 50mm. Then slowly pull out the 2 edges so that there is no air inside.
- After the paste is finished, it is possible to place a Pro-mat sheet or mortar layer on the membrane immediately after construction to protect.
MGN Waterproofing membrane is mainly used to handle metal roofing, moisture protection for concrete layer, anti-radiation, heat reduction.
MGN Waterproofing membrane is composed of a combination of a bitumen mixture with a high-grade polimer resin compound, forming a highly flexible and elastic compound. The surface is covered with an aluminum film to protect the surface, reducing heat due to solar radiation and the other side is protected by a layer of silicon film.
ADVANTAGES:
- Easy to use, cold construction, self-adhesive and simple. Just stick on the roof, the adhesive sheet will stick, apply on all terrain.
- Excellent adhesion ability for horizontal and vertical surfaces.
- Heat resistance: MGN Waterproofing membrane equipped with aluminum coating on the surface will bring the ability to reflect solar radiation.
- The ability to waterproof, water vapor is almost absolute, good leak proof, thick layer of glue to help the gap can not spread, rest assured to use.